We're excited to share that PickTrace has been named a winner in the 2022 AgTech Breakthrough Awards.
The AgTech Breakthrough Awards program provides a forum for public recognition around the achievements of AgTech companies and solutions in categories including farm management, indoor farming, automation, robotics, analytics and more.
"With more than 1,600 nominations from over 15 different countries, the AgTech Breakthrough Award nominees this year were truly the who's who of the AgTech ecosystem," noted Bryan Vaughn, Managing Director, AgTech Breakthrough. Other winners in this year's awards include Semios, Arable, Aero Farms and more.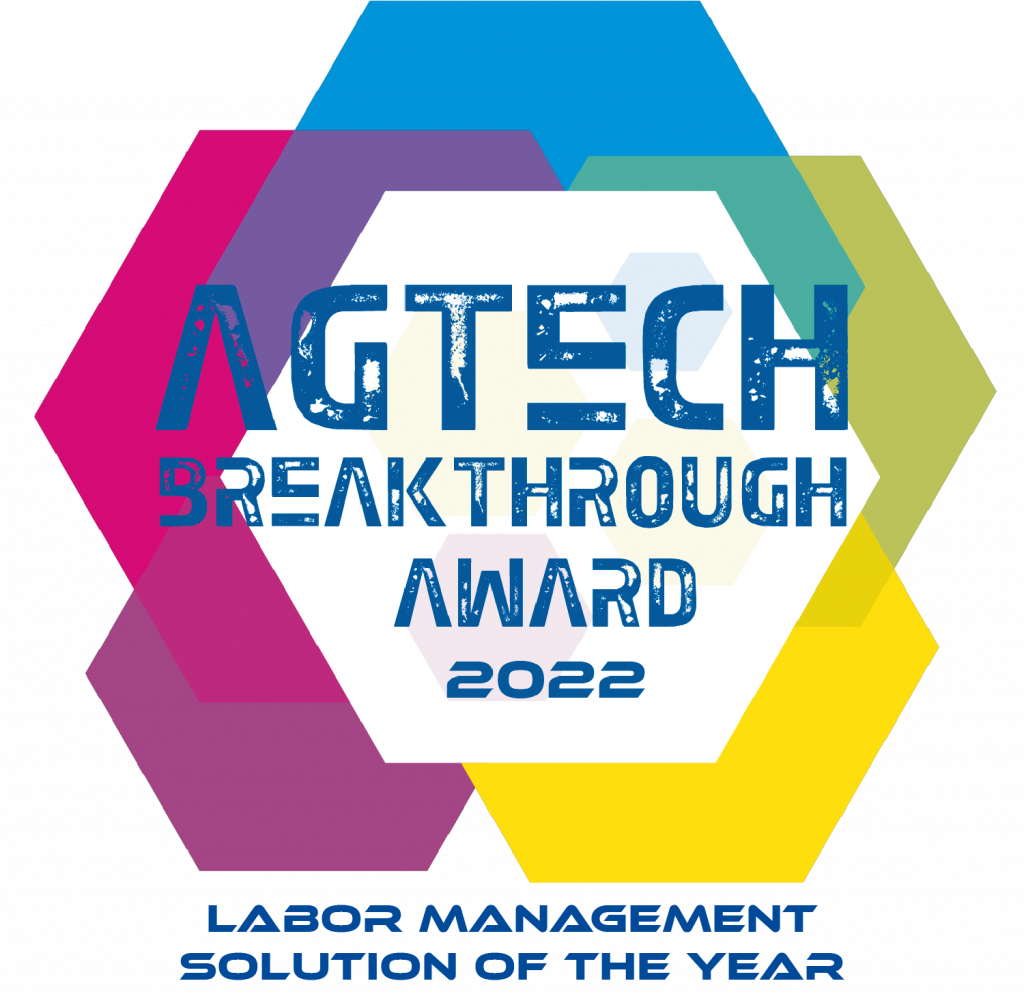 We are honored to be named  "Labor Management Solution of the Year". This award is a byproduct of our company's focus on partnering directly with our customers in building valuable solutions that solve real business challenges the agriculture industry faces on a daily basis.
With 60%+ of our customers operating cost steaming from labor; labor cost, performance, retention, and compliance are consistently touted as the largest problem areas across our clients' businesses. With these business challenges in mind we have centered ourselves around creating software solutions that optimize the process to hire employees, track labor performance & cost, and improve the way the workforce is paid in order to drive greater employee retention & payroll compliance.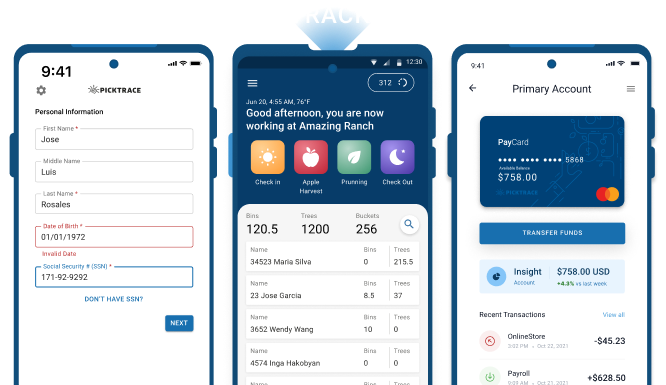 Here are four ways PickTrace is supplying value to our customers labor management workflow from hire to pay, making PickTrace the only all-in-one labor management suite on the market today for the agriculture industry:
Enabling organizations to reduce the administrative burden associated with hiring
Talking with HR teams across the industry, we found the vast majority of employers were spending 30+ minutes to hire an employee when adding up the time spent completing a paper I-9 & W-4, manually entering employee details into their payroll system, and filing the employee documents. We believed we could streamline the hiring process for our customers by digitizing the I-9 & W-4 document completion & storage process, as well as removing the manual data entry of employee details into different systems of record.
This year we launched a paperless hiring solution that has proven to be highly effective in reducing the time it takes to hire a new employee from 30+ minutes to 90 seconds.
"Now that PickTrace has a solution to capture employee information digitally upon hire, we are no longer pulling our hair out trying to read what was written on an I-9 or W-4, but what has really saved us tremendous time is the removal of duplicative data entry. All employee info is captured immediately upon hire, and passed into PickTrace's labor tracking solution, and into payroll." says Barb Evans, Owner at Sage Ridge.
Enabling organizations to have real-time performance visibility across their workforce
We believe organizations that have a close pulse on the productivity of their workforce have a competitive advantage in being able to make better informed business decisions around their farming practices.
This is why we have focused on developing solutions for our customers that enable real-time insights around crew & employee level performance & cost to be easily consumed from a cell phone or computer.
"At FirstFruits we have seen so much value in the real-time data we now have access to across our field operations since the introduction of PickTrace, that we have created roles in our business that are focused on interacting with PickTrace data daily, to drive strategic decisions that save our business time & money" says Steve Bradbury, Labor Analytics Manager at FirstFruits.
It is not just powerful business insights that our labor activity data is supplying, it is also the foundation for ensuring greater wage compliance across our clients workforce.
Enabling organizations to remove the complexities and burden of payroll calculations 
We continue to see new legislation introduced that increases the complexity in wage calculations for agricultural employees. Unfortunately we are also seeing a growing number of lawsuits filed against employers for lack of payroll compliance. In the past few years it has become clear that there is significant legal risk put on any business that is attempting to leverage pen & paper processes to capture & calculate wages for any agricultural employee.
PickTrace's proprietary Compliance Engine removes the complexities and burden of payroll calculations, while ensuring your operation stays in adherence with federal, state, and local wage & hour regulations by automatically calculating break pay, overtime, and non-productive time across your workforce.
Enabling organizations to streamline the payment of their workforce 
We consistently hear that PickTrace removes tremendous amounts of stress from processing payroll by eliminating manual data entry, and automating wage calculations. However, many of our customers continue to carry a large administrative burden on payday in printing and distributing checks to their workforce.
It's not uncommon for our customers to be spending over $30,000/year to print checks, and leveraging multiple employees to distribute checks to their workforce each week.
With our laser focus on solving real business problems for our customers, this year we launched the PickTrace PayCard, in order to eliminate the expense and headache of printing & distributing checks.
The PickTrace PayCard enables a streamlined card issuance process that is integrated into the hiring workflow, and can be leveraged by employees that do not have a bank account. Gone are the times of chaotic paydays!
With PickTrace's ability to hire, track, and pay your workforce from a single platform, we are proud to be the only all-in-one labor management suite on the market today for the agriculture industry. We are only just getting started. If you would like to learn more about the innovative solutions PickTrace offers, or see a demo of the different product offerings you can request more information below.
Why does PickTrace have an NPS score of 80? Schedule a demo today and experience the future of labor tracking.