PickTrace strives to provide the gold standard of support to all of our customers.
While the system is designed to never be the reason your employees
can't work, we know that mistakes happen, procedures are forgotten,
and access to immediate support is crucial.
We provide 24/7
emergency support
Payroll due the next day and need PickTrace help at 10PM? Not a problem.
5AM and the field forgot a critical procedure? Not a problem either
   ENGLISH & SPANISH
All support team members are bilingual – making it easier
for your field and office employees to speak directly with our team.
Standard 6am-6pm PST
phone & email support.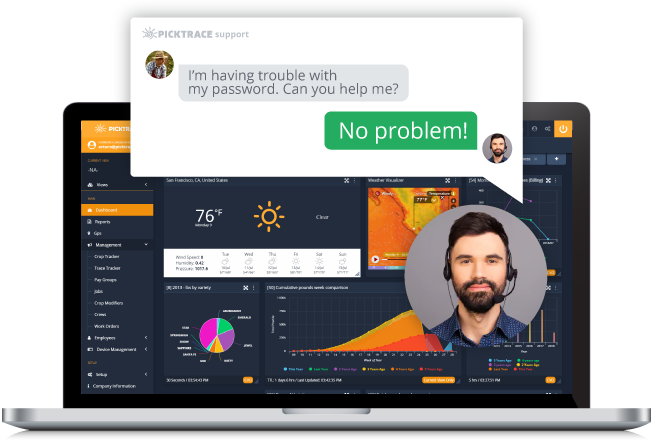 All contracts are deployed by a PickTrace technician. Your project lead is responsible for preparing your team for the new software, as well as training the office and field.

Pre-season
Refresher Courses
Each year, PickTrace holds free virtual refresher courses to go through new features and functionalities, and to walk through any aspect that your team may not remember.

Virtual
Training & Support
All PickTrace devices come pre-installed with remote control software. Once given access, our support team can work directly on the device to resolve any issues, or walk you through any procedure.

Additional
Onsite Support
Need additional support onsite? You may request additional onsite training days at any time.
Schedule a demonstration and see how PickTrace can fit within your company.