Be at ease with PickTrace´s full
payroll calculation engine
REDUCE LIABILITY WITH THE MOST UP-TO-DATE AND CONSTANTLY MAINTAINED PAYROLL CALCULATIONS.
PickTrace primary role within your organization is to collect, calculate, and validate payroll. Our payroll calculation engine will make as much, or as little of the calculations desired prior to exporting into your payroll system.
Complex Calculations, Instantly
Individual, Group/Crew,   Team & Piece Rate Calculations
Piece paid-break calculations
Overtime & Doubletime calculations
Automatic Minimum wage adjustments
Mixed rate & mixed pay-type calculations
NPT, Unpaid period calculation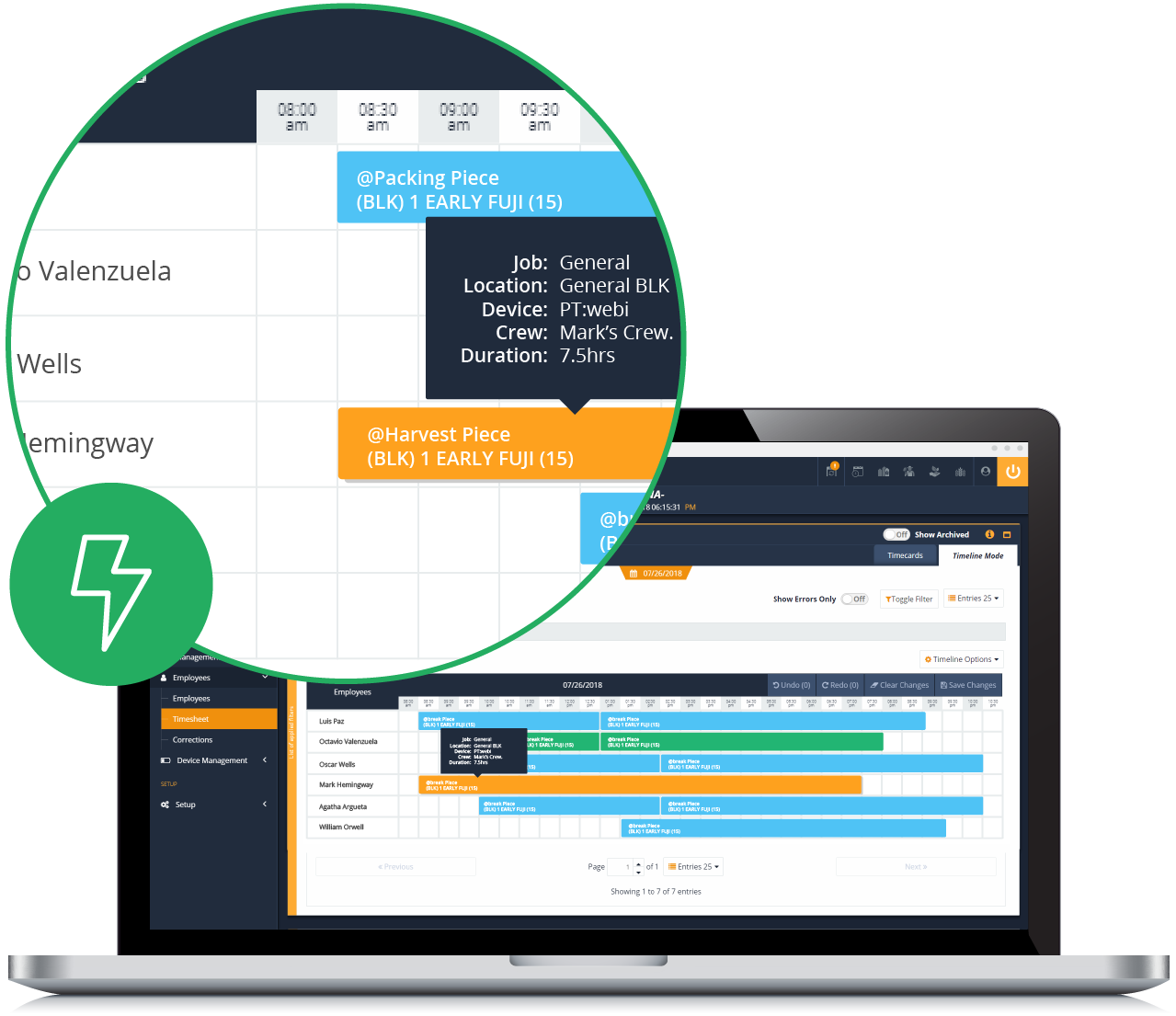 Payroll  may only be run once a week, but with PickTrace, you gain instantaneous gross payroll calculations at any time. Know exactly how much your workforce is costing before final payroll is run.
View harvest costs by variety, block, crew, contractor and more instantly from your phone or computer.

SUPPORTS ALL TYPES
OF EMPLOYEES
Full-time & part-time employees
Daily rate employees
Overnight rate employees
Pickers & Harvest, Pruning and other piece-rate job support
H2A payroll calculations & support

RUN PAYROLL BY INDIVIDUAL, CREW,
CONTRACTOR, RANCH, COMPANY AND MORE
Whether you need to re-run payroll for an individual, or isolate a crew, PickTrace allows your team to run payroll at any level.
Run your H2A crew separately from your domestic workforce.
MULTI-STATE & COUNTRY SUPPORT
Whether your business resides in one state, or in 10 states, PickTrace supports multi-state payroll calculations.
PickTrace keeps up-to-date with new regulations and legislation, to give you peace of mind that payroll is always right.

PAYROLL SYSTEM
INTEGRATIONS
PickTrace integrates with more than 25 different payroll systems. If your payroll system can import a file, we can guarantee support.