PickTrace is proud to be a team of diverse backgrounds, skill sets, and interests. Each month we highlight members of our team to learn about what makes them, and PickTrace, unique.
Meet Senior Account Executive, Shane Stevens! Since joining the team in early 2020, Shane has been going above and beyond to help farmers gain efficiency and insight into their operations by leveraging PickTrace. Always thoughtful and thorough in his work, it's no wonder Shane is beloved by both our clients and our team.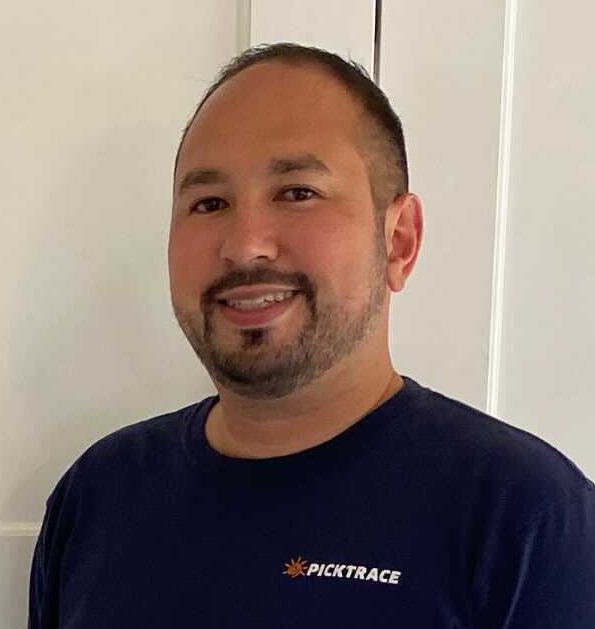 Describe yourself in 25 words or less: 
During the work week, I am very hardworking, detail oriented, and laser focused. However, on the weekend I am very easy going, fun-loving, and spontaneous

Where did you grow up and what is your favorite memory of that place?
I grew up in Moorpark, CA in Ventura County and was involved with a variety of youth sports and activities like baseball, hockey, karate, and Boy Scouts. One of my favorite memories growing up was when I was 10 years old and played in a local bowling league. I was invited to compete in the county-wide tournament with bowlers from dozens of other leagues, and although I was one of the worst bowlers entering the tournament, I somehow had a fluke day and scored nearly twice my average score in the 3 game series, winning the entire tournament. As my prize, I received a partial scholarship towards my future college tuition, and of course, bragging rights!

In school, what was your preferred subject and why?
My favorite subject in school was math because it always came easy for me. In fact, I enjoyed math so much that in Junior High I was on the school math team that traveled across Southern CA to compete against other schools.

How do you like to spend your free time? Any hobbies of note?
I like to spend my free time with my soon to be wife, Nicki, our 2 cats, and our friends and family. I enjoy watching NFL football, playing fantasy football, traveling, and watching live music.

What's something most people don't know about you?
I have always been peculiarly lucky for as long as I can remember. Whether having my name drawn in prize raffles, playing roulette at the casino, or always getting out of speeding tickets, so far luck has been on my side! (hope I didn't just jinx myself)

Before PickTrace, what was your most interesting or unusual job?
In my sophomore year in college at UCSB, I was a Resident Assistant in the freshman dorms and it was a very challenging yet rewarding job. I had to play multiple roles as a mentor, tutor, life counselor, friend, and oftentimes babysitter for the freshman students in my dorm hall. 

How would you describe your current role to a child?
I help farms save money and make smarter decisions out in the field.

What has been your proudest moment since joining the PT team?
My proudest moments have been when customers have told us that PickTrace has not only helped their business but has also improved their personal lives by eliminating tedious manual tasks and allowing them to complete their daily workflows with much less stress.

What is your favorite part of working for PickTrace?
I love that PickTrace takes a collaborative approach to solving customer challenges and that I have been able to work closely with my PickTrace teammates across all different departments. We have such a diverse, intelligent, hardworking team at PickTrace that has a great deal of customer empathy. When we work together as a group, the sky's the limit on what we can achieve!

Finally, and most importantly, if you were a piece of produce what would you be and why?
I would be a berry because I love to hang out in a 'cluster' of my peers, friends, and family.
Interested in working with awesome people like Shane? Check out our open positions here!