PickTrace is proud to be a team of diverse backgrounds, skill sets, and interests. Get to know the folks that make PickTrace so great!
Meet Sr. Technical Support: Payroll Specialist, Carlos Vazquez! Carlos has been with PickTrace since 2017 and has been delighting our clients with his thoughtful, thorough support ever since. Now it's time to meet the man behind the magic!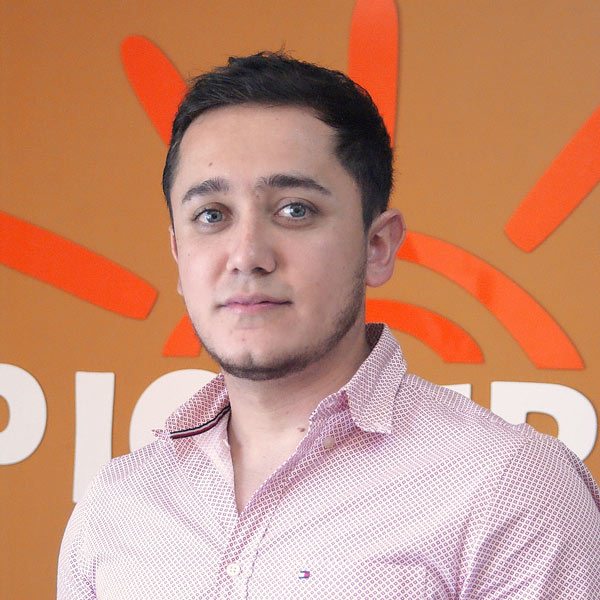 How would you describe your role?

I would say my main activity is to provide support to customers by training them on processes and teaching them to use the product
I'm the first barrier between the customer and PickTrace – I can help them resolve any questions in regards to the software,  troubleshoot a problem, train them to align with the system best practices and make sure they are happy with the use of the PickTrace system and experience.

What is your favorite part of your job?

My favorite part of my job is whenever I feel like I've helped someone and when they provide positive feedback of  the customer service we provide – mentioning how we have helped them is very satisfactory.
This is something that really makes me feel good about the work I'm doing with PickTrace

What's a favorite memory of your time at PickTrace

When the team gathers together to collaborate and at the same time we have some fun together – I remember when Harrison visited us in Mazamitla, Jalisco that was a terrific time.
I can say that I'm pretty happy to be part of the early small team.  I'm pretty happy to have seen the starting product and see how newer and better versions have been created – with a more pristine and more helpful product. I believe the product we have now solves most of the pain points for our  customers.
Also, visiting customers on site and seeing how they use the software, how crew leaders manage the crews. It's something I really enjoy learning how our customers are really putting the produce on the table

What are your hobbies? / How do you like to spend time when you're not at work?

Definitely exercising and lifting weights really gets the stress out of me. I like to bring friends to help me and spot me whenever I want to lift some more weight. Those two hours I spend on a daily basis helps me feel good with myself
I also like to spend time with my friends and girlfriend – go to restaurants, clubs, bars – have some drinks – you know, regular stuff.
I like to go to shows and see artists playing the music I like. Last week I saw a performance in Guadalajara, Jalisco where a lot of regional music artists showed up in a arena theatre.. I went in a group with my girlfriend, one of my cousins and his GF and some other friends. We spent the whole weekend in Guadalajara and had a great time.

This year you earned your PickTrace sabbatical and we have an upcoming company summer break – do you have any plans for all that time off?

With my sabbatical I think I'm going to take some vacation towards the end of the year. Probably not traveling very far – but I might be going to the beach and relax a couple of days.
For the Summer Break I'll probably do something similar -go to the beach, spend some time with family and friends.

If you were a fruit or vegetable what would you be and why?

Blueberry – they  are one of my favorite fruits – I like the color, I like the flavor – they are small and healthy.
When I visit clients I love to eat them fresh from the bush. The quality of the fruit in the US is better than what we get locally – because the US has more varieties of blueberries  than we do in MX.