PickTrace is proud to be a team of diverse backgrounds, skill sets, and interests. Each month we highlight members of our team to learn about what makes them, and PickTrace, unique.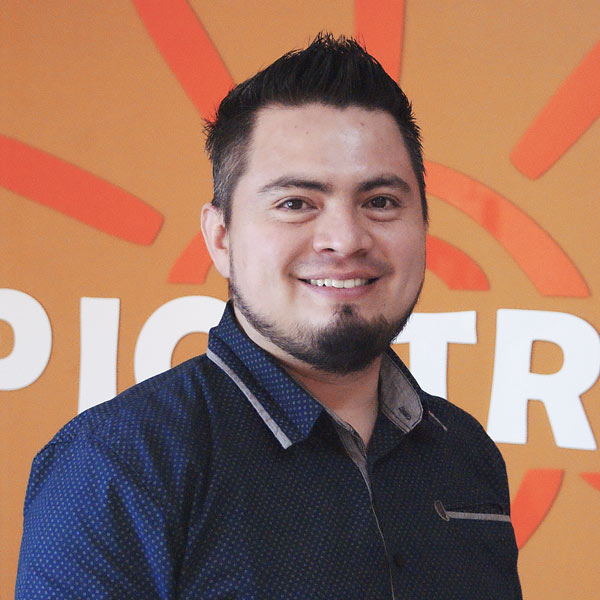 Get to know our Director of Mexico Operations, Misael Larios! After working alongside PickTrace as a liaison to one of our early customers, Misael took a leap and joined PickTrace in its earliest days of 2015. Leveraging his background as an IT Professor, Misael has spearheaded the expansion of our Support Team over the past several years and has become a pillar of PickTrace as we know it today. It's no stretch to say Misael is a PT O.G.
Can you give us a bit of background about yourself?
Born in Jalisco Mexico, I'm an IT Professional and currently work as MX Ops Director for an awesome company called PickTrace Inc.
I'm a weird combination of lyric guitarist, gamer and geek. I love to travel and meet new people and places, and I consider myself a family man and nature lover.

What are your fondest childhood memories?
The best memories from my childhood are of playing soccer until very late with my friends on the block.

In school, what was your preferred subject and why?
Informatics was my favorite. At the time I was in school, computers were the bomb – I fell in love from the first time I touched one.

How do you like to spend your free time? Any hobbies of note?
I enjoy free time with family and friends, I'm a nature lover so I really love forests and hiking with my wife and daughters. I'm also a lyrical musician and my favorite instrument is electro-acoustic guitar, but I also love the aggressiveness and power projected by an electric guitar with a good amp and distortion. As a geek guy, I love technology and videogames in all platforms: PC, Xbox, Nintendo, PS4, and every machine that can provide a good game experience – mainly with good adventure histories.

What's something most people don't know about you?
I love privacy, so I don't speak too much about myself, but I can tell you that inside me lives an audiophile guy and a visual arts lover. Also, I'm the kind of person that loves to socialize but also enjoys being alone in the forest under a tree. I love the small details of life.

Before PickTrace, what was your most interesting or unusual job?
I did all kind of jobs to survive when I was younger, from being a waiter to planting agaves and trees in the fields, but the most interesting work before PickTrace was The Panamerican Games. It was awesome to work there for that short amount of time, meeting with people from around the world was an exciting experience

How would you describe your current role to a child?
PickTrace sells the coolest app for the guys that grow the strawberries, apples and blueberries that you eat. My role is to make sure that we do the right things to leave our clients happy every day.

What has been your proudest moment since joining the PT team?
I have proud moments constantly – mainly when good work is reflected with good results – but the proudest feeling I have is from building a strong team in MX. Even without having the right procedures or best practices, the MX Team has successfully been the front face of the company in the day-to-day work for a while.

What is your favorite part of working for PickTrace?
I love having the chance to contribute in many different areas and to meet new people and places. Additionally, having all the new team in US with great experience and knowledge provides an opportunity for me to learn from them and grow as a professional.

Finally, and most importantly, if you were a piece of produce what would you be and why?
I would be a blueberry, sometimes sweet some times sour, but in any case delicious!! 😛

Interested in working with awesome people like Misael? Check out our open positions here!